I got hooked on hip hop around 1983 when I was 14 and I don't think I'll ever get over my addiction. My teenage years coincided with the most creative and exciting period in Hip Hop's history, the Golden Age*. I still love discovering new music now but that raw excitement, when everything seems brand new is hard to recapture at 40. Taking trips to Groove in London or Spin Inn in Manchester and finding a fresh delivery of import 12's had just arrived was the best feeling ever, iTunes just isn't doing it for me. I loved the whole culture from the start, breaking, graffiti, DJing, what I loved most though is the words, the weird slang, the coded messages and all those amazing rhyme patterns. I couldn't get enough.
Wikipedia defines golden age hip hop as late 80's to early 90's. I would specifically say 84-94 which covers Run DMC's first Album 'Run DMC' to Nas' first album 'Illmatic' and my 15th to 25th birthdays.
In 1988 at Blackpool college I formed Imperial Groove* with my good friend Jonny. We bought a 4 track recorder and started bashing out songs. We had a few played on local radio and got close to having a 12" released, nothing ever came of it though. In 1991 I finished college and moved back to the Midlands while Jonny stayed in Blackpool and formed Funky Fresh Few with Damon (dsc) and James (Moody J). The name is a tribute to the old school, Treacherous Three, Fearless Four etc. I did some tracks with them occassionally but again nothing ever got released.
The name came from the local grafitti crew Imperial Art. Shout out to graffitti legend, British Rail fugitive and Funky Fresh Few member Time.
I stopped writing for a while but FFF carried on and eventually signed to Mark Rae's Grand Central records in Manchester. They released an EP, some 12"s and dropped an absolute classic with Afu Ra. Around 2001 they signed a 3 album deal and Damon called to see if I wanted to write something for the album. Shit yeah! FFF was now Damon and Glen (osc). They sent me some instrumentals and I started writing. The album came out in 2002, it's called 'Stealing'. My track, which got released as a 12" single, is called '24/7'.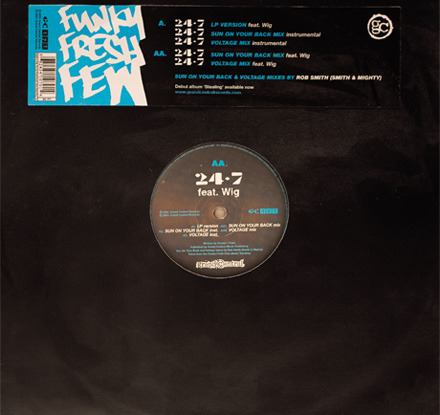 All the music was produced in Damon's home studio in Blackpool, the album has a mixture of MCs from the US & UK. The US MCs were recorded at the legendary D&D Studio in New York, my vocals were recorded in Damon's bathroom with curtains hung around for soundproofing…
I'm really happy with how it turned out, I like my track and there's some amazing stuff on the rest of the album. I especially like the Sage tracks. I know they pressed a few thousand copies on Vinyl and CD but I'm not really sure how many it sold. Grand Central went out of business* in 2006. I was happy to make a couple of hundred quid in royalties and even happier walking in to a record shop and seeing it sat in the racks next to all my heroes.
Industry rule number four thousand and eighty, record company people are shady.
Check the Rhyme, A tribe called Quest
I love the fact that I'm on a record with Craig G who was on The Symphony with Big Daddy Kane, Kool G Rap and one of my all time favourite MCs Masta Ace. I like being on a record with Q Ball and Curt Cazal from JVC Force who made Strong Island, one of the biggest anthems of the Golden Age.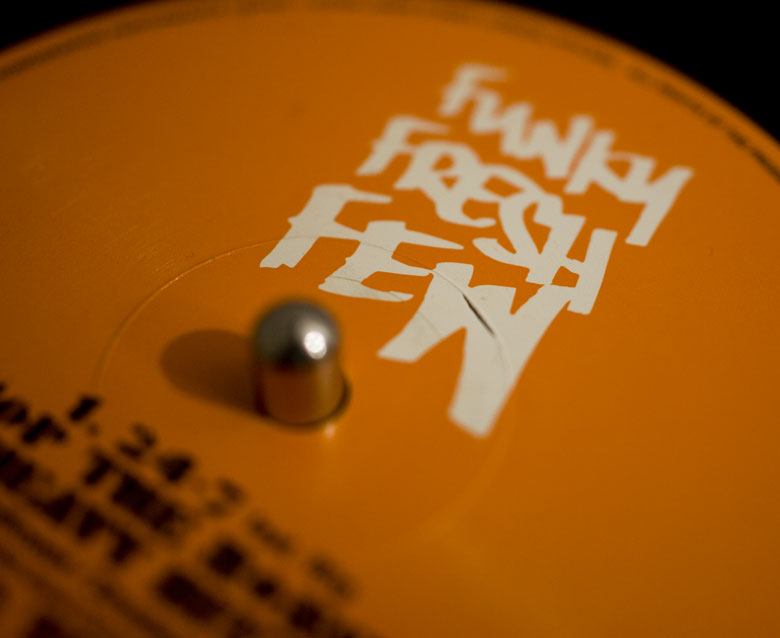 Mostly I'm just happy that I'm out there on vinyl, a proper double LP and a proper 12". There's something about vinyl that feels permanent. Once your record's out on vinyl you're a part of hip hop history, a part of the culture, it will always be there for the collectors to find, and that's pretty good feeling.
Thanks to Jonny (Take), Damon (dsc), Glenn (osc), Alex (Time) & James (Moody J) for creating a hotbed of 80s and 90's New York Boom Bap in sunny Blackpool. Good Times.
Download a zip file (47Mb) of the full album Stealing by Funky Fresh Few
Download a compilation zip file (54Mb) of some of the classic hip hop mentioned above. If you like any of it. Go cop it!